NSO In Your Neighborhood: East D.C.
Thursday, September 12 – Monday, September 16, 2019
This September, the NSO partners with community-based organizations, local artists and neighborhoods across Wards 5, 6 and 7 to celebrate the rich cultural legacy in Northeast Washington, D.C.
The NSO's mission for In Your Neighborhood  is to extend access to live music beyond the Kennedy Center, sharing performances with as many people as possible, engaging new audiences, and inspiring the next generation of musicians and music lovers.
28 Neighborhood and Artist Partners
15 Chamber Ensemble Performances
2 Full Orchestra Concerts
1 Masterclass
1 Neighborhood Block Party
---
IYN Highlights
All events are  FREE and open to the public unless otherwise noted
Thursday, September 12
National Symphony Orchestra Community Concert
8:00 – 10:30 p.m.
2135 Queens Chapel Rd NE
The NSO returns to Echostage for a full orchestra concert led by NSO Principal Pops Conductor Steven Reineke! The Orchestra plays a high-energy program perfect for symphonic and R&B/soul music lovers alike. Don't miss this chance to witness the power of the full orchestra, featuring vocal soloists Mykal Kilgore and Nova Payton.*
*This concert is standing room only. Doors open at 7 p.m., the pre-show starts at 8 p.m., and the NSO concert begins at 8:45 p.m. 85 minutes, no intermission
Saturday, September 14
Neighborhood Block Party  
12:00 – 2:00 p.m.
4321 Ord Street NE
In 2017, Mayor Muriel Bowser unveiled the newly renovated expansion of the Kenilworth Recreation Center. As the Department of Parks and Recreation's newest community center, it was designed to be eco-friendly and energy-efficient. To highlight the city's continued commitment of support for economic development in Ward 7, the NSO is hosting a Neighborhood Block Party at Kenilworth Recreation Center in advance of a full orchestra concert. Activities will include local small business vendors, food trucks, D.C. Public Library's Go-Go Tech Truck, an Instrument Petting Zoo, performances from the MusicianShip's All-City Drumline and more!
National Symphony Orchestra Community Concert
2:00 – 3:30 p.m.
4321 Ord Street NE
Don't miss the NSO in this full orchestra concert at the Kenilworth Recreation Center. Conductor Joseph Young makes his NSO debut with a program of diverse composers and unique compositions, featuring D.C. violinist and vocalist Chelsey Green and The Green Project. Seating is first-come, first-served, and space is limited. Doors open at 1:30 p.m.
NSO In Your Neighborhood is a community engagement initiative that provides free NSO performances and activities for one week in a specific D.C. neighborhood. Events range from full NSO concerts and chamber performances, to in-school visits and masterclasses, presented in collaboration with local and community-based venues.
Through this, the NSO:
Ensures that all Washington, D.C. residents can participate in the arts.
Supports building connections and bridges throughout Washington, D.C. neighborhoods
Shares live classical music with as many people as possible, across all ages and backgrounds
Engages and inspires audiences of the future
The National Symphony Orchestra is committed to reaching all communities across Washington, D.C. We believe music is for everyone, regardless of age, background or zip code.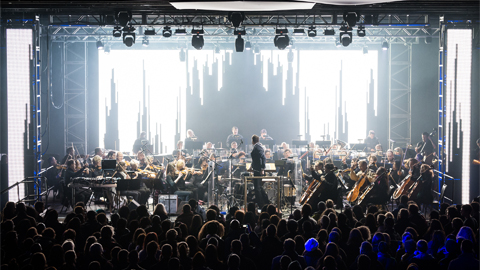 Share your In Your Neighborhood experiences on social media!
Tag your posts, photos and video using the hashtag #NSOneighbor
For more information about In Your Neighborhood:
Vaughan Bradley-Willemann
Manager of Community Engagement
Phone: (202) 416-8173
About Sound Health
Sound Health is the National Symphony Orchestra's year-round community engagement initiative that sends musicians into local hospitals, pediatric units, and military health centers in the Washington, D.C. area. Activities include performances in lobby spaces, treatment areas and patient rooms, designed to serve all ages.
Program Goals
Sound Health aims to enhance the environment and experiences of patients, their family members, hospital staff and visitors, through live music and personal interaction. The program is tailored to reach a population that cannot frequently or easily travel to the Kennedy Center or other performing arts venues.
Collaborating Organizations
Musician visits are scheduled in collaboration with leading health care institutions, including the National Institutes of Health (NIH) and Children's National Health System.
Events
Sound Health was launched on September 11, 2013, with a chamber orchestra performance at the National Institutes of Health to an audience of more than 600 people in the Clinical Center atrium. NSO ensemble Viva Violins later performed at the Children's Inn at NIH, along with an instrument petting zoo, a project of the Women's Committee for the NSO. Events are also planned at Children's National Health System, via their Creative and Therapeutic Arts Services division.
Due to the nature of the venues, NSO Sound Health events are not open to the general public.
Impact
Music has the extraordinary power to bring people together and enhance our common experiences. Research shows that music creates a healthier, more enriching environment, leading health care institutions to seek ways to incorporate this creative art form into their regular activities for patients, military personnel, families, staff members, and visitors. Sound Health provides a variety of targeted musical programming at medical facilities, with the goal of enhancing the institution's environment.
"To hear this caliber of orchestra, up close, and for free, was truly an experience I won't forget. My spirits were so lifted, my soul was so touched; that hour set the tone for the remainder of my week at the hospital. Thank you to all the musicians and organizers for this wonderful gift of gorgeous music."
- Patient
National Institutes of Health Clinical Center
"Thank you for helping to bring much-needed smiles to our Inn families' faces – a gift that is truly priceless!"
- Katelyn Hansen
Community Outreach & Volunteer Program Assistant
The Children's Inn at NIH
"It's about giving back. We do it because it brings us so much joy."
- Holly Hamilton, violinist
National Symphony Orchestra