History of Washington National Opera
Photo by Scott Suchman
In 1956, the sound of opera rang out in DC, heralding the birth of a new company. Four decades and countless artistic leaps later, Washington National Opera continues to move boldly forward on the great adventure that began years ago in a university auditorium. Washington National Opera is now one of the nation's leading opera companies and plays to standing room audiences in the Kennedy Center.
In the Beginning
The company was founded by music critic Day Thorpe of the now defunct Washington Star, along with a few other visionary souls who decided that the capital should have its own operatic enterprise. He called it the Opera Society of Washington (later renamed The Washington Opera), enlisted members of the National Symphony Orchestra, and engaged Paul Callaway, organist and choirmaster of Washington Cathedral, as music director.
Setting the mood for its subsequent history, the Opera Society began its existence not with a tried-and-true staple, but with performances on January 31 and February 1, 1957 of Mozart's The Abduction from the Seraglio. Performances were held in George Washington University's Lisner Auditorium, whose shallow stage and tiny orchestra pit were ill-suited to staged opera. Conductor Callaway held rehearsals in New York, for that is where his singers were, and props had to be assembled from various sources including the Turkish Embassy. Nevertheless, the production was a huge success.
Years of Incredible Talent
Photo by Scott Suchman
Another offbeat offering was immediately scheduled, a double-bill of Gian Carlo Menotti's The Old Maid and the Thief and The Unicorn, the Gorgon and the Manticore. This began a long association with the composer that included the 1986 world premiere of Goya, starring Plácido Domingo (televised nationally on PBS). Igor Stravinsky also came to D.C. and conducted a pair of his operas, Le Rossignol and Oedipus Rex, which were recorded by Columbia. Such composers as Paul Hindemith, Samuel Barber, and Lee Hoiby were here as well in those early years directing, conducting, or supervising productions of their operatic works. Legendary baritone Tito Gobbi also directed a three-performance run of Puccini's Tosca for the company in March 1978.
Opera on a Shoestring
Since there was no "company" in the literal sense, productions had to be conceived individually and financial support scraped up opera by opera. Even so, the company achieved remarkable results and, in 1967, commissioned the world premiere of Alberto Ginastera's Bomarzo. Frequently, though, success came at a price. In December 1970, for instance, Frederick Delius' Koanga, an American premiere, was the only opera that the company was able to mount.
With the enthusiastic support of Roger Stevens, Chairman of the Board of the then new Kennedy Center, Artistic Director Ian Strasfogel led the company into the Kennedy Center Opera House in the fall of 1971 with the world premiere of Ginastera's Beatrix Cenci. The company was named the resident opera company of the Kennedy Center.
The London and Feinstein Years
In 1975, George London, one of the great bass-baritones of his generation, became General Director. By this time, the season had expanded to three productions per year and London began developing ambitious long-range plans. Also at this time one of the company's most energetic supporters, Christine F. Hunter of The Gramma Fisher Foundation of Marshalltown, Iowa, became president of the Board of Trustees.
When London suffered an incapacitating heart attack in 1977, Gary Fifield, London's Managing Director, and Francis Rizzo, the Artistic Administrator at Wolf Trap, stepped up to produce three challenging seasons.
When London was unable to resume his position, Martin Feinstein, then Executive Director of Performing Arts at the Kennedy Center, was appointed General Director. Under Feinstein's guidance and with the enthusiastic support of David Lloyd Kreeger (who had become president of the Board of Trustees), Washington National Opera became the first U.S. opera company to produce a repertory season in two separate theaters: the 2,200-seat Opera House and the 1,100 seat Eisenhower Theater. The introduction of English supertitles in 1984 proved an instant hit and attracted new audiences.
From 1979 to 1995, Feinstein led the company in presenting several important productions, including he world premieres of Menotti's Goya and Argento's The Dream of Valentino, Carmen with Denyce Graves, Turandot with Eva Marton, Samuel Ramey in Mefistofele, Salome with Maria Ewing, Barber's Vanessa, d'Albert's rarely performed Tiefland, the East Coast premiere of Argento's The Aspern Papers, Janacek's The Cunning Little Vixen, La Bohème directed by Gian Carlo Menotti, and the American premiere of the Chinese work Savage Land. With L'Orchestre de Paris, the company co-produced the Mozart/da Ponte operas, conducted by Daniel Barenboim and staged by Jean-Pierre Ponnelle. With L'Opéra de Monte Carlo, the company produced the Rimsky-Korsakov gem The Tsar's Bride, which began a Russian cycle including Eugene Onegin and Pique Dame.
The Woodies Project
In the spring of 1996, the leadership of Washington National Opera, headed by Board chairman Mrs. Eugene B. Casey, realized that the company needed to accommodate its expanding audiences and address its growing needs for more performances and space for rehearsals, set/costume storage, educational programs and administrative offices. Mrs. Casey gave the company a gift of $18,050,000 to purchase the Woodward and Lothrop building, a former department store in downtown D.C., at a bankruptcy auction. The Opera purchased the "Woodies" building, zoning was obtained, and the architectural firm of Pei Cobb Freed & Partners and other experts formulated a new Opera House design. But when the plan that satisfied the company's minimum requirements was priced at $200 million, and the company had raised $75 million, the Kennedy Center asked the Opera to consider staying. The resulting agreement in the summer of 1998 between the Opera and the Kennedy Center reaffirmed their relationship, allowing the Opera to increase its number of performances in the Opera House over a 15-year period. In February 1999, the Opera sold the "Woodies" building for $28.2 million to Douglas Development. The net proceeds of the sale were used to endow the Opera's Eugene B. Casey Fund.
The Domingo Era
On July 1, 1996, Plácido Domingo became Artistic Director of Washington National Opera and accepted the post of General Director in May 2003. During those eight years, Plácido Domingo transformed Washington National Opera from a regional company to one of international acclaim by engaging world-renowned artists, producing new works, broadcasting its productions on television and radio worldwide, and presenting ambitious, diverse repertoire. As General Director, Mr. Domingo selected the repertory and casting and oversaw all stages of the creative process. His first season began on November 9, 1996 with Gomes' Il Guarany, in which he also starred. Mr. Domingo's work was complemented by that of Patricia L. Mossel, Executive Director from 1995 to 2002, and Mobil Corporation executive Walter Arnheim, who served as Executive Director from 2000 until 2002. In 2002, Michael R. Sonnenreich became President of Washington National Opera.
The "Domingo Era" included Zeffirelli's production of Pagliacci starring Mr. Domingo (televised nationally on PBS); Mr. Domingo in Massenet's Le Cid (taped for upcoming PBS broadcast); and the North American premiere of Wolf-Ferrari's Sly featuring José Carreras in his first appearance in an American opera production since 1987. Other highlights include Mirella Freni and Mr. Domingo in Fedora; José Cura and Denyce Graves in Samson et Dalila; Samuel Ramey in Boris Godunov; Eva Marton in Elektra, Ainhoa Arteta in Puccini's La Rondine (televised nationally on PBS); and Ruggero Raimoindi in Piero Faggioni's production of Don Quichotte; and Parsifal conducted by Heinz Fricke and starring Mr. Domingo and an international cast of Wagnerians. In 2004-2005, Mr. Domingo appeared as Vidal Hernando in Moreno Torroba's Luisa Fernanda, and in 2005-2006 performed roles from three of the world's most beloved operas in the company's celebratory Trilogy production.
With its many new productions, Washington National Opera's sets and costumes that originally triumphed in D.C. have been seen by audiences in Italy, France, Australia, Israel, and Canada, and across the U.S., from New York to Seattle, Miami to Los Angeles. Motion picture companies have used Washington National Opera productions, from Oliver Stone's production company to the feature film Guarding Tess, starring Shirley MacLaine.
Under Maestro Domingo's leadership, the company expanded its facilities with the 2000 opening of the Washington National Opera Studio in Takoma Park. Since its opening, this facility's rehearsal spaces are large enough to accommodate three different productions simultaneously, houses a well-equipped costume shop, and is home to Washington National Opera Center for Education and Training. Introduced in spring of 2004, the National Opera Center houses the celebrated Domingo-Cafritz Young Artist Program, award-winning Education and Community Programs Department, and newly created Apprentice and Intern Programs.
Founded in 2002, the Domingo-Cafritz Young Artist Program has quickly become one of the nation's most competitive and comprehensive professional training programs for young singers and coach/accompanists. The program guides promising young singers in their transition from student to international opera artist by providing private voice lessons, master classes, vocal coaching in roles, and training in languages and in the dramatic arts from the finest teachers and coaches in the field. Nutrition education, stress-reduction counseling, and advice on how to build and manage a professional career as an opera artist are also included. All singers have the opportunity to perform principal, supporting, or cover roles in main stage productions.
Investing in Young Artists
Washington National Opera has worked since its inception to encourage the development of gifted young American artists. Early discoveries included Reri Grist and James McCracken (who sang his first Otello in the 1960 season). American artists who performed here in the fledgling stages of their careers include Rockwell Blake, Justino Diaz, Maria Ewing, Donald Gramm, Catherine Malfitano, John Reardon, George Shirley, Frederica von Stade, Richard Stilwell, Shirley Verrett, and Benita Valente. More recently, Tracy Dahl, Denyce Graves, Jan Grissom, Jerry Hadley, Eric Halfvarson, Hei-Kyung Hong, Ashley Putnam, J. Patrick Raftery, Ruth Ann Swenson, Jeffrey Wells, Ruth Welting, and Sheryl Woods received a career boost as young artists at Washington National Opera.
Noteworthy Conductors
The company has attracted such conductors as the Berlin Staatsoper's Heinz Fricke (who became Washington National Opera's Music Director in 1993), Daniel Barenboim (in his U.S. operatic debut), André Previn, Rafael Fruhbeck de Burgos, Nicholas McGegan, John Mauceri, Daniel Oren, Arnold Ostman, Mstislav Rostropovich, Max Rudolf (in his final operatic appearance), Gerard Schwarz (in his operatic debut), and Leonard Slatkin. Other important productions were entrusted to such young American conductors as Richard Buckley, Paulette Haupt, Cal Stewart Kellogg, Keith Lockhart, Anne Manson, Steven Mercurio, Joseph Rescigno, and Patrick Summers.
Emphasizing Theatrical and Musical Values
Washington National Opera has called on such innovative directors of theater and film as Bruce Beresford, Werner Herzog, Michael Kahn, Mark Lamos, Donald Saddler, and the late Peter Mark Schifter, as well as internationally renowned directors with extensive operatic experience, including John Copley, Frank Corsaro, Piero Faggioni, Colin Graham, Michael Hampe, Lotfi Mansouri, Gian Carlo Menotti, Elijah Moshinsky, Stephen Lawless, the late Jean-Pierre Ponnelle, and Franco Zeffirelli.
In spring 2003, Washington National Opera moved into its temporary home at DAR Constitution Hall while the Kennedy Center Opera House underwent significant renovations to improve accessibility for all patrons. The specially-constructed thrust stage and positioning of the orchestra at the back of the stage à la Bayreuth made DAR Constitution Hall a wonderful venue to enjoy opera, particularly as the unique set up permitted the use of technological innovations such as multi-layered projections. From spring 2003 through the first half of the 2003-04 season, the company staged six operas at DAR Constitution Hall: Aida, Don Giovanni, Fidelio, Die Fledermaus, Norma, and Die Walküre.
On March 27, 2004, Washington National Opera returned to the renovated Kennedy Center Opera House with a thrilling line-up of operas, including a new production of Puccini's Manon Lescaut, Rossini's La Cenerentola, Verdi's La traviata, and the East Coast premiere of André Previn's A Streetcar Named Desire. Highlights of the Opera House renovations include an updated interior design, a new orchestra cross aisle, more wheelchair accessible seating, better lighting and environmental control, and an improved performance experience through a new sound system and larger orchestra pit.
Opera for the Nation
Photo by Scott Suchman
In February 2004, the company changed its name to Washington National Opera to reflect its increasingly significant role in the national arts scene and fulfill its 2000 Congressional designation as the "national opera." Washington National Opera is proud of its distinctive past and looks forward to an even brighter future. Under the stewardship of General Director Plácido Domingo and the patronage of Life Chairman Mrs. Eugene B. Casey, Board Chairman John J. Pohanka, and other prominent members of the business, social, and political communities, the company was in an excellent position to maintain its cadre of quality performances, award-winning education and community programs, and guidance of new talent well into the future.
In November 2005, during the company's 50th anniversary season, Washington National Opera once again became a pioneer in the Washington arts community as it presented a simulcast of Porgy and Bess, the first-ever event of its kind to be broadcast live to the National Mall. Speaking from the Kennedy Center Opera House before the event, Washington, D.C. Mayor Anthony Williams commented: "As always, we're seeing Washington National Opera break new ground." An estimated 13,000 people attended the historic event, bringing opera to a new and diverse audience and raising the profile of WNO in the local community.
WNO Today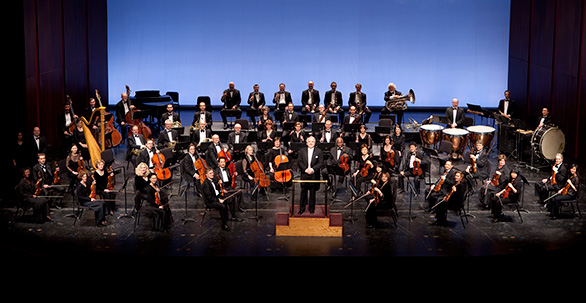 Photo by Scott Suchman
Recent seasons have continued the traditions set by the founders of WNO, offering performances by the greatest talents the opera world has to offer, in works beloved and unfamiliar. WNO's commitment to nurturing the future of the art form manifests itself in the celebrated Domingo-Cafritz Young Artist Program and the annual Opera in the Outfield® event, in which a production is simulcast for free to Nationals Park. These programs, along with the considerable work and outreach of the Education Department continue to broaden the public's awareness and understanding of opera, and cultivate the next generation of opera stars and supporters of the arts. In 2003 WNO launched Generation O, rebranded as BravO in 2014, a program for patrons age 18 to 40, which makes WNO accessible to young opera lovers and new opera listeners through specially-priced tickets, special events, and educational opportunities. And in 2012 WNO began the American Opera Initiative, a comprehensive new commissioning program that brings contemporary American stories to the stage while fostering and developing the talents of new American composers and librettists.
Washington National Opera officially affiliated with the Kennedy Center in 2011.
In 2012, Francesca Zambello was appointed as Artistic Director of the opera. As an internationally recognized director of opera and theater, she had directed productions with Washington National Opera since 2001 and continues to today. The opera's vision under Zambello is to bring stories to the stage that are classic and contemporary as well as those that illuminate the American experience. With Zambello at the helm, the opera has made a tradition of the annual holiday opera, showcasing productions of Hansel and Gretel, The Little Prince, and the world premiere of the children's opera, The Lion, the Unicorn and Me. In 2016, as a perfect culmination to the 60th anniversary season, Zambello brought Washington National Opera to the international stage when she led the company to present three full cycles of Wagner's Ring.
Timothy O'Leary began his tenure as General Director of Washington National Opera in July 2018. As General Director, O'Leary works closely with WNO's Board of Directors and Artistic Director Francesca Zambello to provide strategic and operational oversight of the entire company. In collaboration with Zambello, he partners with other members of the Kennedy Center's senior leadership team to expand how Washington National Opera and the Center serve audiences, the Washington, D.C. community, and the international arts community.
Under this combined arts leadership, Washington National Opera continually strives to reach the highest artistic standards in its performances and programs in the nation's capital.
The Past
Music directory Paul Callaway (standing) rehearses with singers David Lloyd and Wilma Spence (1959)
Gian Carlo Menotti directs a rehearsal of his opera 'The Unicorn, the Gorgon, and the Manticore' (1956-1957)
'Ariadne auf Naxos' (1957-1958)
George Shirley as Oedipus and Shirley Verrett as Jocasta in 'Oedipus Rex' (1961-1962)
Frederica von Stade in 'Il ritorno d'Ulisse in patria' (1973-74)
Catherine Malfitano and Harlan Foss in 'Manon' (1973-1974)
James McCracken in Verdi's 'Otello' (1975-76)
Composer Gian Carlo Menotti has composed many works which the Opera has produced. His 1986 premiere of 'Goya' was Plácido Domingo's debut with the Opera.
Maria Ewing in 'Salome' (1990-91)
José Cura in 'Samson et Dalila' (1997-1998)
George London, General Director (1975-1977)
Martin Feinstein, General Director (1980-1995)
Ainhoa Arteta in 'La Rondine' (1997-1998)
Elizabeth Bishop and Dale Duesing in The Dangerous Liaisons (1997-1998)
Samuel Ramey in 'Boris Godunov' (1998-1999)
José Carreras in the title role of 'Sly' (1998-1999)
Ruggero Raimondi in the title role of 'Don Quichotte' (2000-2001)
Franco Farina as Radamés and Maria Guleghina as Aida in Giuseppe Verdi's 'Aida' (2002-2003)
Anja Kampe as Sieglinde and Plácido Domingo as Siegmund in Richard Wagner's 'Die Walküre' (2003-2004)
Teddy Tahu Rhodes as Stanley Kowalski in André Previn's 'A Streetcar Named Desire' (2003-2004)